After local mom and entrepreneur, Stephanie Keefer, became a mom she struggled to find quality childcare. She took on the initiative to modernize and simplify babysitting with her desire to provide access to only the most experienced and pre-vetted sitters in the community and Platinum Sitters was born!
With four children in varying age groups with different needs and wants from a babysitter, I can tell you that finding the "perfect one" seemed like an impossible task. Much like Stephanie, I had been so let down by sitters that I found through Facebook mom group pages and through the neighborhood sitter list.  Was I being too picky? Were the kids? We pretty much gave up the thought of having a date night that wouldn't include some sort of sitter-related anxiety.
When Stephanie offered me a free night of a Platinum Sitter's services, of course I couldn't say no! I signed up on the site in just a few minutes- I loved that I was able to input detailed information about the kids and our family so that we could be matched with the sitter that best fit our needs.The site is super user friendly; you are matched with available sitters immediately after inputting the date and time  you need one. You even have the opportunity to check out reviews left by other parents before making a choice! I love that the testimonials are anonymous, allowing parents to leave honest feedback.
Once I completed my inquiry, I was matched with several sitters and was able to read their "bios":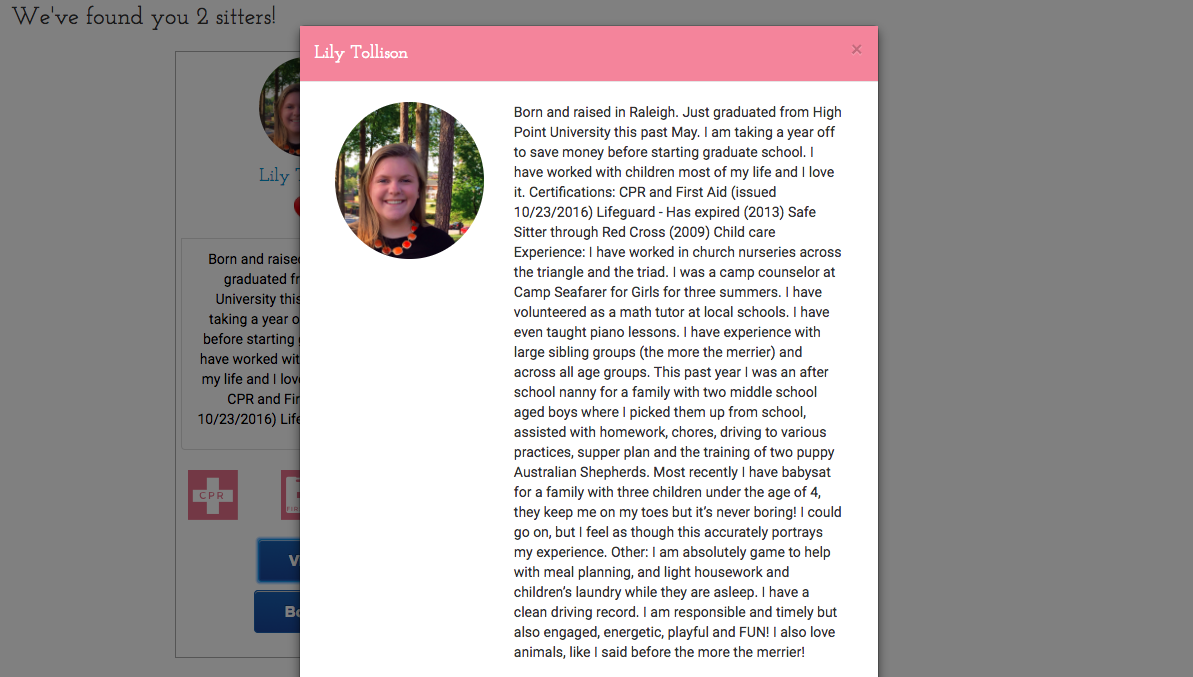 and testimonials: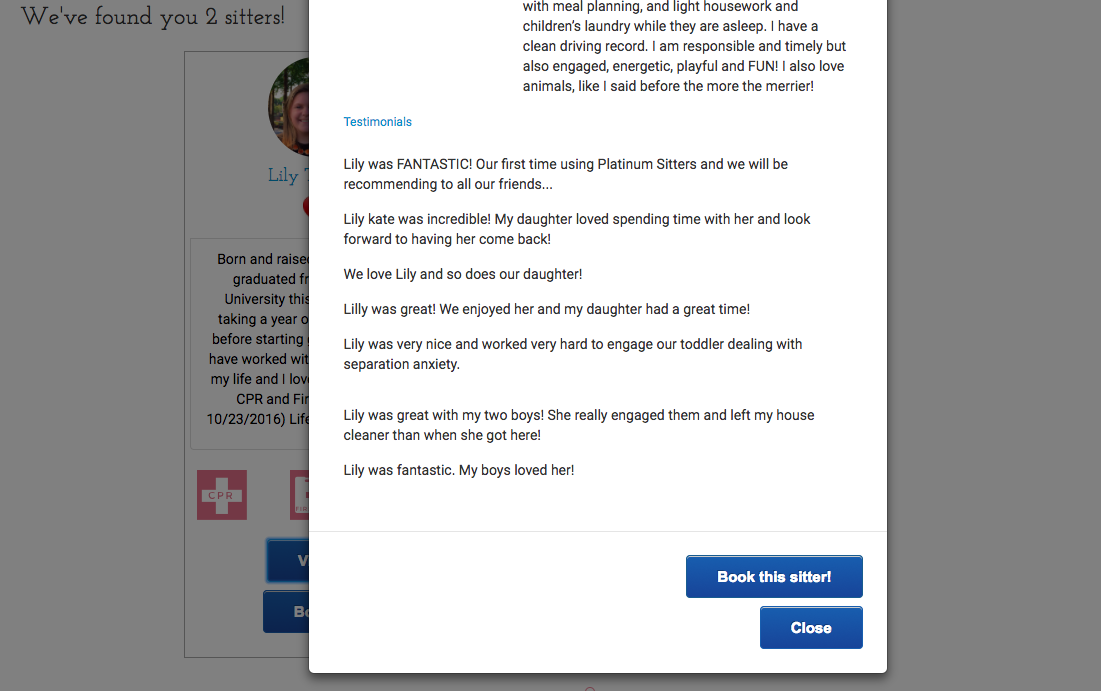 Lily was one of the available sitters and we agreed that she seemed like a good fit for our 4 kids. She had lots of experience with groups of children in varying ages- Yay! (That's surprisingly hard to find). I felt confident after reading the testimonials and more so after learning about the serious vetting they have in place including background checks, reference checks and in-person interviews.
Lily was about to be challenged. Our cul-de sac was hosting a block party on our pre-planned date night and she would not only have to take care of our 4 kids, feed them dinner, etc- she'd have to do it mostly outside as they ran in and out of the house with their many neighborhood friends.
Lily arrived a few minutes early-things were starting off on the right foot! She came in with a smile and a positive attitude about the evening and didn't blink when I announced the impromptu party that had gathered outside.
From the start, Lily was engaging the children in conversation, enticing the shy one, cracking jokes with the oldest and was doing it seamlessly. From her profile, we knew that she felt comfortable cooking and sure enough, she enthusiastically said she had it covered. She exuded confidence and I truly felt like I was dealing with a professional.
As we were finishing up getting ready to leave the house, Lily went outside to the party with the kids, walked around and pleasantly introduced herself to our neighbors.
When we were ready to leave we  began to do our usual parting routine, "don't forget to…, they go to bed at …". We had filled out our profiles online so were quickly met with Lily finishing our sentences and being a step ahead and pleasantly letting us know that she had it all under control. As we drove off, our rear view mirror showed Lily happily playing ball with our youngest. It was probably the most comfortable we'd ever felt with a new sitter.
We had a great, relaxing night out and arrived home to happy kids, a brief recap from Lily and then she was off. With Platinum Sitters, everything from booking through payment is handled online. They've made the process so simple and have thought about everything.
I'm so happy to report that the kids loved their new sitter and so did we! Not only was the process of hiring a sitter for the evening easy as pie, we felt confident that our sitter was prepared for an evening with 4 children, and confident that Platinum Sitters had vetted and hired the best sitters in town. They did the work so I didn't have to. Sound familiar? 😉
If you'd like to try out this great, local sitter service, register for FREE by going to PlatinumSitters.com or reach them by phone or email at 919.594.5530/[email protected].