---
Thanks to the generosity of Wendy Wilmot, Coastal Urge & Roast and Toast on the Coast we were able to enjoy a fall weekend on gorgeous Bald Head Island. All thoughts are genuine and my own.
---
With four kids in the house we don't often have the opportunity to go on couple's getaways. My husband had a few days off from work, I was burnt out from a summer filled with activity, travel and work and it seemed like not taking the opportunity to take a few days to recharge would come to bite us in the bottom as the holidays approached. Luckily the grands were available for some caregiving and the kids were excited to spend a few days being spoiled by them.
We decided to go somewhere that was a reasonable drive away from Raleigh and offered us some solace and beach time. We decided on Bald Head Island, a subtropical island that's just a two mile ferry ride across the Cape Fear River from Southport, NC. Wendy Wilmot, owner of Wendy Wilmot Properties, the premiere rental agency on the island, was our go to to find a perfect home away from home. After finding our perfect home away from home, we booked ferry tickets, made a loose itinerary, and were off for a couple's fall weekend getaway.
The 2.5  hour drive to Southport was easy and relaxing as we got to catch up and chat about things that had always seemed to be able to wait until later. Once we arrived in Southport, a lovely harbor town, we headed to the ferry terminal where we tagged our bags at the curb. My husband parked the car and said goodbye to it since there are no vehicles allowed on Bald Head- it's golf carts only! That made me a bit wary, but I soon found out how this fact lends to the "unplugged" feeling of the island.
The ferry was full of locals, dogs that received special treats from the crew, other couples and families with the same idea we had. In just 20 minutes, and with a few deep breaths of the salt air, we felt decompressed from the daily rushed schedules, the activity ridden days, and deadlines. It was pretty magical. Once we landed, a staff person provided us with the tram number onto which our luggage would be loaded and on which we would ride to our rental home. The tram service is included with the ferry ticket pricing and it's great to be completely hands off from your luggage from the moment you get to the ferry terminal in Southport to the time you land at your rental home.
Tip-Be sure to pack as if you were flying. Everything should be in closed containers to make it easy to transport on the ferry and tram. Bring cash to tip the tram transport driver.
On our way to our rental house, we passed the quintessential, historic landmark, Old Baldy. Old Baldy is the state's oldest standing lighthouse and a must-have backdrop for at least a few of your Bald Head pictures.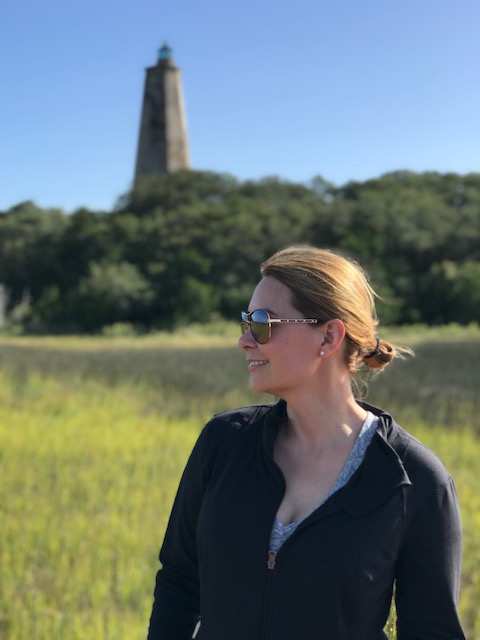 The tram deposited us right in front of our home nestled in the forest…it was perfect. Our beautiful home for the next few days was perfectly situated close to East Beach and had all of the amenities we would possibly need during our stay.
We unpacked quickly and set off to explore the island on our vacation home's golf cart. The first stop, our usual couples' getaway necessity; a tandem bicycle rental! This is one of our favorite ways to explore while on vacation. It's a great way to see your surroundings, have easy conversations – AND, my husband doesn't at all mind the shoulder rubs while biking. Coastal Urge provided us with an awesome tandem bike and we were on our way.
The island is its very own paradise. Winding roads, gentle hills, gorgeous views of the marsh, a beautiful ocean and an ancient maritime forest. Each different backdrop offers a new mood, each section of the island, its own personality. 12,000 acres and 14 miles of beach. Intimate enough to feel romantic, large enough to never get bored. Both the  modest and luxurious homes complement the natural environment of the island and give the message that this island community respects its history and surroundings.
A quick marsh view:
We biked all afternoon, exploring and getting to know the island, then stopped for a late lunch at one of the few restaurants on the island, Delphina. We were served up a beer and margarita and whiled away a couple of hours, sipping our drinks, munching on yummy pan-seared mahi fish tacos and just relaxing. The term "island time" comes to mind. It's funny how unplugging leads to the complete inability to rush to or away from anywhere.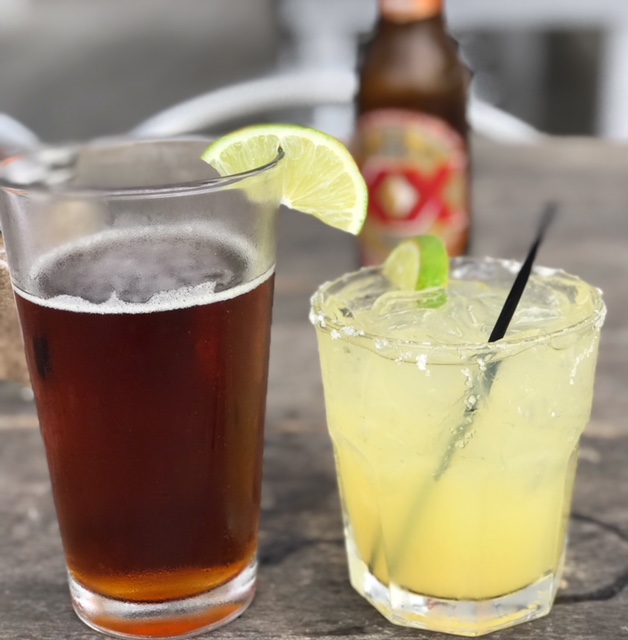 That night, we stopped at the Maritime Market, the only full grocery store on the island and shopped for our dinner. Although prices here may be higher than they are at your local food market, it's worth it if you're looking to pack light and not bring groceries from home.
•Tip- To save money, bring some of your favorite snacks and beverages from home. Coolers are easy to transport on the ferry.
We ended our day with a romantic evening cooking together, some night golf cart riding and a walk on the beach.
We were blessed with perfect weather in the 80's and the next morning we set off to enjoy the salt marsh. The marsh is one of the highlights of the island and full of activity possibilities. Kayak, canoe, or paddleboard enthusiasts can enjoy all of these activities in a beautiful setting bursting with wildlife. Coastal Urge recommended we try the Hobie Mirage Eclipse Stand Up Paddleboard. We were ready for adventure and loved the freedom of this board. This paddleboard allowed us to "pedal" our way around the water while holding on to a steering bar. It took a few minutes to get the hang of it, but it was a super fun, easy option for a water activity. From the marsh, you get a completely different perspective of the island and the stunning views are incomparable.
•Tip-Try a new activity together. Don't be afraid to explore something new during your time away from the kids. There are studies that indicate that trying new and exciting things together leads to greater satisfaction in marital relationships!
So far, we had ferried, lunched, beach walked, golf carted, paddleboarded and biked. You would think we had seen all that this small island had to offer, but you'd be wrong.
We had been on the island for two days and had already been amazed by the natural beauty, the variety of activities available and the warmth and hospitality of its residents.
We had chosen a great weekend for our trip. The island was alive with activity and special events to attend. October is breast cancer awareness month and Bald Head Island was going PINK! The annual BHI Pink Weekend celebrates and salutes the incredible strength and courage of the women who have struggled and continue to struggle with this disease. The two day awareness and fundraising initiative included one of my favorite events of the weekend, the Showcase of Designer Homes. We had the opportunity to tour some of the most spectacular homes on the island opened up to visitors by their gracious owners.
•Tip: If there isn't a showcase on your weekend trip, top island realtors like Wendy Wilmot are always hosting open houses for the beautiful homes on sale. Look out for her cheerful yellow golf cart!
I mentioned the hospitality of the locals and long term residents-well, nothing says welcome more than an invitation to "howl at the moon"! If it's a FULL moon, that is. The "Howl" is a Bald Head Island tradition held on East Beach Access 39 that celebrates a full  moon with a beach party that includes food, bagpipe music and yes, "howls" at the moon by the spectators. Everyone in attendance is encouraged to bring a dish to share  and the Maritime Market brings one of their delicious soups to hand out to the crowd. We had never experienced anything like it- so fun! We socialized, ate delicious appetizers and yep, howled at the glorious harvest moon and laughed at the silliness. It was a beautiful night and once again, we felt the magic and spirit of Bald Head Island.
•Tip: If you have the opportunity to enjoy the "Howl" during your stay, don't miss it! After the party, we enjoyed a romantic night walk on the beach, be sure to pack some light sweaters for the evening temperature drops or don't, and just hold each other close. 😉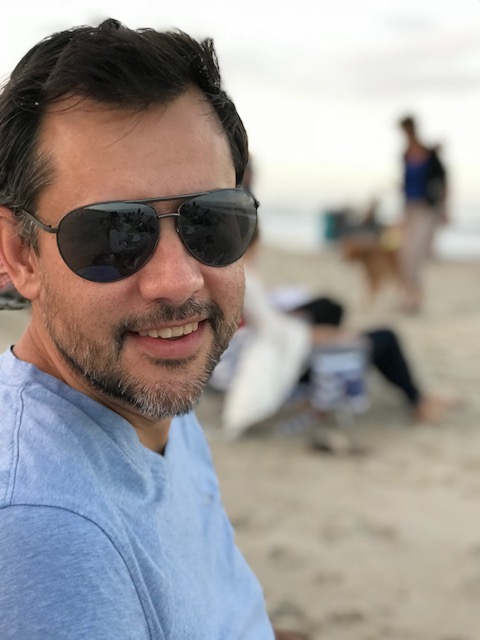 By this point in our stay, we were feeling completely relaxed and spent the next couple of days on the beach. Long walks, picking out the perfect shells, reading, wading and playing frisbee. It's amazing what the salt air can do for tired, overworked souls.
On the last night of our fall getaway we attended a very special Island event- the three day Bald Head Island Roast and Toast on the Coast presented by Bald Head Island Limited Real Estate and Southern Living Magazine. We were hosted by the organizers at the Tasting Event featuring Southern Smoke BBQ. We enjoyed wines, craft beers and specialty cocktails including the most delicious whiskey margarita. We even got up close and personal with Chef Robby Melvin from Southern Living Magazine's test kitchen who walked us step-by-step through a fantastic White Bean, Fennel and Italian Sausage Soup, delectable and perfect for fall.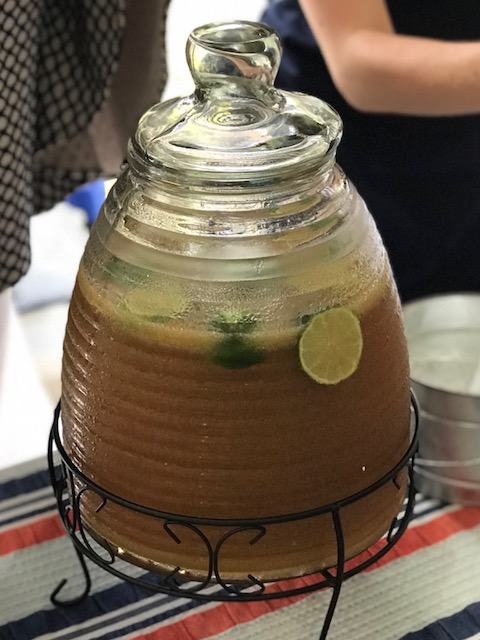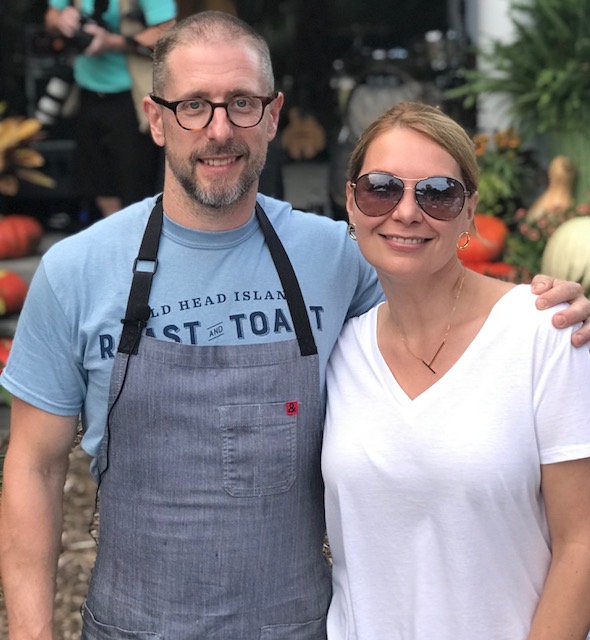 We had certainly saved the best night for last as we danced under the stars to the music by Midatlantic, made friendships with other couples from the Triangle area, and enjoyed exquisite food and drink.
On our last morning, we packed our suitcases and waited for our scheduled tram to take us back to the marina in time to board the ferry. As the ferry departed the island we reflected on the trip, on how invigorated we were and how much fun we'd had exploring and adventuring.  We arrived home reconnected and ready to tackle the real world again, but already planning our return to the discovered romantic paradise that is Bald Head Island.
•Tip: Take time to recharge and reconnect without the kids once in a while. Parenting is rewarding but also exhausting. Practice some self-care so that you can return refreshed and present for them.
Resources:
Wendy Wilmot Properties (Premiere Vacation Rentals)
Coastal Urge (Outdoor Activity Rentals)